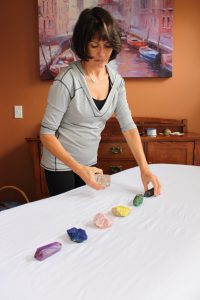 I am an Angelic Healer and Spiritual Counselor. For 25 years my healing practice has involved energy work that includes Magnified Healing, therapeutic touch and reflexology. The principles of my spiritual counseling are founded in "A Course in Miracles" as well as "A Course of Love". In an Angelic Healing counseling session anything the client would like to work on is fair game. There is no subject off limits to God, the Angels and myself.
I recognize the importance of good health on all levels. Spiritual health is no exception. Just like our bodies, our spirit needs our attention also. Often, people focus on the tangible, visible changes that they can make. This is a great place to start and can also deeply impact our spirit. It really is the intangible things like attitude, values, self-worth, etc. that most dramatically influence our choices and well-being. I assist my clients in making the healthiest choices possible for themselves.  As Dr. Martin Luther King said, "We have within us a power greater than bullets. It is certainly time to use it."

The human body is an energy system, which is also surrounded by an energy field. I am able to listen carefully to intuit core issues that are buried within the body's organs. With this awareness, we are able to discuss, process and release that which causes pain and concern of any kind. This cleansing promotes physical, mental, emotional and spiritual health and healing. My practice compliments all other forms of health care. 
What does an Angelic Healing session involve and how can it help me?
My clients lay fully clothed under a sheet on a table where I scan their bodies with my hands positioned about four inches above their physical bodies. I begin with a prayer addressed to the Holy Spirit, because I believe that the Holy Spirit is the Voice for God. God is Love. 
Dear Holy Spirit,
Thank you for taking us where you would have us go. Thank you for introducing us to whom you would have us meet. Thank you for telling us what you would have us say. Thank you for keeping us out of your way.
Amen
My clients come from very diverse backgrounds, in all age groups and topics range from health issues, to marital concerns, to career choices. My practice compliments all other forms of health care.
Angelic Healing Services
Adult Life Coaching (travel expenses not included)

$125

/

hr

Adult Counseling

$125

/

hr

Couples Counseling

$150

/

hr

Child Counseling (12 years and under)

$45

/

½hr

Phone Counseling

$90

/

hr
Traditional Ministerial Services performed by Gina are also available.
Please inquire at  [email protected] for details.